What happens when you mix a lightweight body with a high-powered 427?   Ford set out to find out with this 1966 Fairlane, and the results were awesome.    This Fairlane does not look like anything special, being completely devoid of racy looking stripes or fancy trim, but the giveaway is the scooped lift-off hood and the discreet 427 badges on the fenders.    This car is boasting lightweight aluminum and fiberglass panels from front to back, and has been assembled without creature comforts inside.
Outlaw 10.5W Drag Racing – APSA Sydney
Here's a behind the scenes look at our testing session in Phoenix, Arizona. We can't wait for the start of the NHRA Drag Racing Season! See you at the races!
David Demarco of Demarco Racing on his second pass on the new blower setup went 4.18 then 4.16 in testing at Bradenton Motorsports Park on Radials. Look for our feature video of their badass ride coming here shortly!!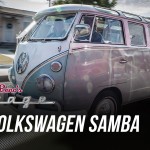 One of Jay's favorite comedians brings by his beloved VW bus, a pristine version of his very first car.
On this episode of Hot Rod Garage, presented by Lincoln Tech, Mike Finnegan journeys to Sonny Leonard Racing Engines in Lynchburg, Virginia to help assemble his new engine, a 771ci Big-Block Chevy topped with Hemi heads, which is primed to produce ridiculous pump-gas horsepower and torque. This all-aluminum, rule-injected beast is built with parts from Brodix, CP-Carillo, ARP, Sonny Bryant, Trend, Holley, and Accufab and weighs just 595 pounds. Once assembled, Sonny dyno-test the engine to verify the power output on 92 octane gasoline before shipping it home to Mike so he can fab a turbo kit for even more power. We've also got a brand new Lincoln Tech Quick Tip and the last Q&A session of Season 1 with Finnegan and Freiburger.
This week, we're taking a look at a Muscle Car that proves one didn't need the biggest engine to be a bad machine! The 1969 Camaro Z/28 boasted a high-revving 302 cube V8 – a size dictated by the SCCA for Trans Am racing legality. But don't let the relatively small displacement fool you – the Z/28 302 was conservatively rated at 290 HP – although many claim it made closer to 350 HP at a higher RPM than the original rating. This Dusk Blue example retains all the cool parts that made up the Z/28 package. From the Brothers Collection.
Matthew Grubisa's sensational looking Outlaw 1970.5 Chevy Camaro runs a personal best pass. Power comes from a 622ci big block Chev V8 engine boost by a pair of large Precision Pro Mod 94mm turbochargers.