Highlights from the 2016 'Summer Nationals' at Santa Pod Raceway. Featuring race classes such as MSA Pro Modified, Nostalgia Fuel Challenge Cup, Comp Eliminator, VW Pro & Sportsman plus a range of bike classes including Top Fuel Bike, Funny Bike, Pro Stock Bike, Super Street Bike, Super Twin and more.
Round 2 of the 2016 MSA British Drag Racing Championship for Pro Mod from the FIA Main Event at Santa Pod Raceway.

Last time that we saw Boosted Ego it was a Blue Fox Body With a a big single turbo setup. Well Fast forward 3 short months and he shows up with a completely new setup that immediately caught our attention at The Ozarks Raceway Park. A Beautiful New Edge Mustang houses a new 548ci Chevy Motor with not 1 but 2 Massive 94mm Turbos!! Boosted Ego quickly got to work taking down all competitors in the Small Tire Class at the No Prep No Excuses Knockout.
D'BIRD V8 BLUEBIRD DRAG RACING 1/8 & 1/4 MILE. MORE VIDEOS TO COME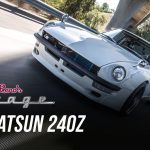 Fast and Furious star Sung Kang stops by the garage with some of his car enthusiast buddies to show Jay their resto-modded 1973 Datsun 240Z they built with the help of social media.
Outlaw 10.5 Highlights from Door Wars at Maryland International Raceway!

RTRA – Drag Radial Spring Nationals at Northstar Dragway, Denton TX!  Eight Mile Drag Racing on a 315 Drag Radial Tire!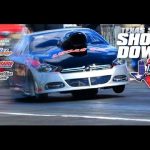 Prior to Friday's first qualifying session for the 2016 PDRA Texas Nationals, her last run was a two-car crash with Ron Muenks. A lot can change over the course of a year. Musi ran a 3.77 to go to the No. 1 qualifying spot in her return.