Stevie "Fast" Jackson shocked the Pro Mod field taking the top spot for the first time in the J&A Service NHRA pro mod series. NHRA announcer Brian Lohnes caught up with him in the pits to get the scoop and ask him about all the internet chatter that has popped up.
For the first time the Texas-based redemption was invited to race at a NHRA Nationals event at Royal Purple Raceway in Houston. Kenjo Kelley whipped the eight-car field and took home the win.
NHRA Pro Mod driver Bob Rahaim gets out of the groove and hits both guardwalls at the 2017 NHRA SpringNationals at Royal Purple Raceway in Houston. Rahaim was evaluated by onsite emergency staff and was released.
The Top Dragster presented by Racing RVs class also featured a lot of great side-by-side racing, including the final round, where Chuck Phelps bagged his first national event win at the expense of multitime division champ Kyle Seipel. Phelps got off the starting line first by a slim margin, .001 to .006, and held on for the win with a 6.603 on his 6.57 dial while Seipel was .013-second behind with a 6.941 on his 6.90 dial.
Dean Hall's win in Top Sportsman presented by Racing RVs was a thing of beauty that was highlighted by a rare perfect run in round two. Hall was never worse than .012 on the Tree as he drove his Korbel-backed Corvette to his third national event title. In the final, Hall defeated the red-hot Ed Olpin with a .006 light and a 7.295 on his 7.26 dial.
This one's going to hurt some feelings..he ripped out the 572 cubic-inch big block and replaced it with a…183 cubic inch INLINE 6! Whoa! The infamous Toyota 2JZ is the new power plant for this 1973 C3 Corvette, and it has definitely earned the 1320video stamp of approval! Capable of mid 7 second passes..we can say this motor swap is 100% justified.
It was sure hard watching this sweet Blown 32 Ford get into the guardrail at the Kansas International Dragway 'No Prep Mayhem' event. Luckily the damage was minimal and the car should be back out soon.
Corona, CA – Like a leopard changing his spots, Carl Renezeder will charge into the battle for the Lucas Oil Off-Road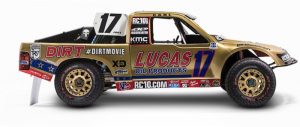 Racing Series Pro 4 class championship in different team livery in 2017. Gone is the gleaming white that fans have grown used to seeing on the team's Pro 4 truck. In its place is a sparkling 'gold' that is a fitting paint scheme for short-course off road racing's winningest driver as he tries to leave his opponents in the dust one final time.
Renezeder, who was 53 on April 16, has earned an unheard of 121 wins, 9 short-course championships, and 8 Challenge Cup wins in 18 years and was the first driver in short-course history to win championships in both two-wheel drive and four-wheel drive trucks in the same season. He has announced plans to retire at the end of the 2017 campaign.