Roadkill powered by Dodge brings back a Mazda pickup powered by a 455 Oldsmobile in the bed! In Episode 45, Mike Finnegan and David Freiburger bought a lemon-colored Mazda REPU mini-truck with a 455 Olds big-block mounted in the bed, powering the rear wheels through a Toronado transaxle. The seller said it did wheelies and ran 10s in the quarter-mile. Not surprisingly, the guys quickly realized the lemon wouldn't run 10s even if it had unicorn blood in the engine. In this episode of Roadkill, the guys pull out all the stops to push the Mazdarati into 10-second territory by doing a top-end rebuild in the staging lanes of a dragstrip, road-tripping on HOT ROD's Drag Weekend event, and then making one heroic pass with the nitrous button pushed!

Round 3 Qualifying at the Lucas Oil Division Racing Series Event at Lebanon Valley Dragway NY, Saturday July 2, 2016.
Highlights from the 2016 'Summer Nationals' at Santa Pod Raceway. Featuring race classes such as MSA Pro Modified, Nostalgia Fuel Challenge Cup, Comp Eliminator, VW Pro & Sportsman plus a range of bike classes including Top Fuel Bike, Funny Bike, Pro Stock Bike, Super Street Bike, Super Twin and more.
Round 2 of the 2016 MSA British Drag Racing Championship for Pro Mod from the FIA Main Event at Santa Pod Raceway.

Last time that we saw Boosted Ego it was a Blue Fox Body With a a big single turbo setup. Well Fast forward 3 short months and he shows up with a completely new setup that immediately caught our attention at The Ozarks Raceway Park. A Beautiful New Edge Mustang houses a new 548ci Chevy Motor with not 1 but 2 Massive 94mm Turbos!! Boosted Ego quickly got to work taking down all competitors in the Small Tire Class at the No Prep No Excuses Knockout.
D'BIRD V8 BLUEBIRD DRAG RACING 1/8 & 1/4 MILE. MORE VIDEOS TO COME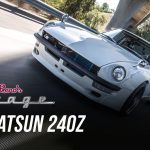 Fast and Furious star Sung Kang stops by the garage with some of his car enthusiast buddies to show Jay their resto-modded 1973 Datsun 240Z they built with the help of social media.
Outlaw 10.5 Highlights from Door Wars at Maryland International Raceway!