After running a string of 9.2-second passes, Mark Drew was again piloting his wife's Holden HR street car at Heathcote. Recent changes include a larger 4in exhaust, Dominator stall converter and a custom inlet manifold which saw the turbocharged LS V8 make a touch over 800hp to the ground at MPW through street radial tyres. The old Holden still retains the factory style column transmission shifter and stock style rear leaf sprung suspension.
Pro Mods from Jet Cars Under the Stars at New England Dragway.
On this episode of HOT ROD Garage presented by Lincoln Tech, we try to get all the power from our HT502 Chevelle  to the ground! Watch Tony Angelo take you step by step detailing a complete rear end overhaul and upgrade. Watch as we take our old, beat up 2.73 open-diff rear and install all new everything including 3.73 ring and pinion gears, Auburn Cone-type LSD, new axles, bearings and seals, turning it into a proper high performance rear. Once it's all together, we head back to the dragstrip at California Speedway to see just how much faster this Chevelle can go!
LAMBORGHINI WILD BUNCH ALF SCIACCA RACING 7.10 @ 204 MPH
Check out the BEST of the Slo-Mo action from the first 8 races of the 2015 NHRA Mello Yello Drag Racing Season. You can't keep your eyes off it.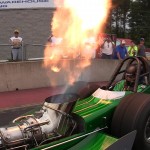 Second pass of the day for Tim Arfons in the recreated turbine-powered Green Monster 19 front engine dragster. His best pass to date at 7.25 199.38 MPH, and creeping up on the first 200 MPH pass!
Curator Leslie Kendall takes Jay under the hood of this aerodynamic, three-wheeled Petersen Museum rarity, masterminded by Gary Davis.
Final Qualifying from the 46th Annual Toyota Summernationals at Old Bridge Township Raceway Park in Englishtown NJ.