LAGUNA BEACH, CA – After a professional off-road racing career that has seen 121 wins, 9 short course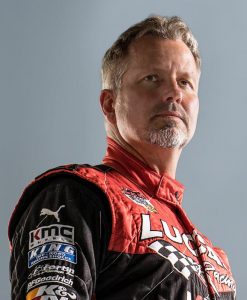 championships, and 8 cup wins, Carl Renezeder recently announced his plans to retire at the end of the 2017 season. Renezeder's number of victories is truly remarkable, however, it is not just his trophies that make him such a celebrated athlete. Renezeder has set himself apart from the rest by challenging norms, pushing limits, and always prioritizing his team-oriented, professional nature.
"As I look toward the future and my retirement from racing, I am overwhelmed by the great memories I have made with my family, my team, my sponsors, and all of my fans," announced Renezeder. "I would like to express my gratitude to Charlotte and Forrest Lucas, Dawn and Bob Patison, and Tom Fredrickson from Lucas Oil for standing behind me these past 19 years. Lucas Oil has been more than a sponsorship to me – I have gained lifelong friendships," said Renezeder.
Throughout his career, Renezeder has created winning race effort on and off the track. While Renezeder's race accomplishments speak for themselves, it's his business expertise that has enabled him to transform his race team into an international marketing force. In order to attain this scope, Renezeder had to create meaningful relationships with his many sponsors including his title sponsor, Lucas Oil.
What if you could have a supercharger on any car, any time? In this episode of Roadkill powered by Dodge, that was the plan with the Roadkill Boost Caboose, a trailer with an engine that powers a centrifugal supercharger that sends boost to the tow vehicle! And, it's not just any tow vehicle — it's the long-lost Roadkill 1978 Chevy Monza Spyder from episode 16 that was boosted with five leaf blowers mounted under the hatch. This application of boost is a few notches more absurd, but does it really work? Watch as David Freiburger and Mike Finnegan head to a secret high-speed, high-tire-smoke test facility to find out.
A DRAG JEEP!? Not only that…but Lights Out 8 is it's maiden voyage! First time out! This pretty little thing comes straight out the shop with no testing done on the car! The owner took it to South Georgia Motorsports Park for Lights Out 8 to try out the new car for the first time at the track, with a new set up, without wheelie bars! That takes guts! The jeep goes on a WILD ride first pass out. Powered by a 400 cubic inch small block Ford and an 88mm turbocharger, it flies down the track! The build is done by Profab Performance and it is beautiful! Can you imagine going down the track at 140 mph without a roof?!
Disco Dean in the Stinky Pinky Blown Camaro going rounds at the Fat Tuesday No Prep event at Hub City Dragway.
SAN ANTONIO, TX – VP Racing Fuels today announced it has been named the Official Fuel of both the Irish Drift
Championship and British Drift Championship series. Under the agreement, VP will provide trackside fuel service for each event and post contingency awards of 100, 50 and 25 for first, second and third-place finishers respectively. Awards will be distributed in euros for the Irish series and pounds for the British championship, and drivers must use VP fuel to be eligible.
As part of its fuel service, VP will offer a pre-order program in which all participants will have the opportunity to order fuel in advance and have it delivered to each event. Drivers for both series will be contacted directly and provided with forms for use in placing pre-orders. Questions regarding fuel orders for both series can be directed to greenperformanceparts@gmail.com or by calling (BDC) 07720 086931 or (IDC) 087-2190808.
WEST PALM BEACH, FL – Three of drag racing's biggest stars have joined the International Hot Rod Association
(IHRA) professional competition advisory board, the sanctioning body announced today. They will work directly with IHRA president Mike Dunn.
The new board members, Larry Dixon, Melanie Troxel and Whit Bazemore, have a combined 91 national-event wins and numerous decades of experience. The drivers will work with Dunn and various additional IHRA personnel to counsel the sanctioning body on competition-related issues. Among the areas in which they will work are class structure, formatting of the series and various racer-related plans and topics.
Friday NHRA Nitro Spring Training testing turned out to be ladies day at Wild Horse Pass Motorsports Park outside of Phoenix, Az.
$45,000 on the line is enough to get most people to compete in two classes and this is no exception for Eric Bain and his mustang "BOOSTED EGO"! Tackling two classes without breaking a sweat just adds to the car and drivers persona! Getting the car dialed in on E-85 for the first time is no easy task, not to mention getting the car dialed in to the track of Kearny Raceway Park! Competing in "King of the Corn's" Small Tire AND Outlaw Extreme, this Twin Turbo Chevy powered Mustang was not afraid of any competition, running all the way to the finals in both classes.