The Crusty Nova -vs- Daddy Dave driving the Nitrous Mustang at the Conquer the Concrete event at Thunder Valley Raceway Park.
This is a real life example of what hard work, determination, and good friends is all about! These guys had no engine, no EFI, and no wiring in the car the night before their first pass in their twin turbo Malibu! Based on a Chevy Big Block V8, this Malibu is now sporting FuelTech's FT500 electronic fuel injection system running high 3 second 1/8th mile passes! WOW! Being a car with lots of history behind it, the crew was sure to get this race car done in time for Duck X's Lights Out 7 at SGMP!
The New Birdman Firebird going rounds on bare concrete, and showing why he is the 'King of No Prep' Drag Racing. From Thunder Valley Raceway Park's 'Conquer the Concrete' event in OKC.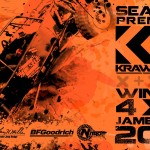 We Kick off the 2016 Season of KrawlZone, with our premiere episode from Sand Hollow and the Winter 4×4 Jamboree. This event is one of our favorite. The events trail rides take place at the beautiful Sand Mountain OHV area which overlooks Sand Hollow Reservoir. With sandstone trails from very mild to as wild as you want to get, and dunes to play on, this is the perfect place to hold such an event. Enthusiast came from all over the west to experience this wheelers paradise.
Al sat down with David Freiburger and Mike Finnegan at SEMA 2015 in Las Vegas and got the details on how the guys of Roadkill come up with their ideas for the show and what we can look for in the future.
High Power = High Stakes! While the competition was friendly, the pot was still full of 5,000 reasons to win! It was awesome to see these two very impressive builds go head to head. From Drag Week cars to full on professional built tube chassis, these cars mean business! Great guys with great attitudes remind us what the scene is all about, we love seeing people who can take a win or a loss for what it is and keep a great attitude! These are some A+ racers in our book!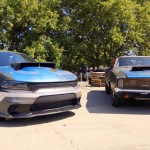 In this episode you'll see a huge road trip that includes Freiburger-versus-Finnegan showdowns with crazy burnouts in the General Mayhem and General Maintenance; drag racing with the Blasphemi, General Mayhem, Draguar, and Vette Kart; and road-racing in the Vette Kart and General Maintenance. It's all part of Roadkill Takes America, presented by Dodge, an event that was held in August of 2015.
They race nitro, but not where you would think. CompetitionPlus.tv focuses on three A/Fuel Dragster and their dreams to race to the top of the drag racing food chain – Top Fuel. Third-generation drag racers Krista Baldwin and Ashley Sanford, along with Cameron Ferre discuss the value of A/Fuel Dragster in creating a new crop of Big Show nitro racers.