On this episode of Dirt Every Day presented by 4 Wheel Parts, Fred shows how you too can get behind the wheel of a military truck by buying one on an online auction. Fred has had many big tough 4×4's that were military surplus vehicles, but none as massive as the Stewart and Stevenson LMTV he gets from Gov-Planet, an IronPlanet marketplace, online auction site that sells surplus vehicles such as Hum-vees and deuce and a half trucks. Fred then takes the big truck on a wild adventure as he tries to prove that a giant military veteran can be a great daily driver and off road explorer.
On this episode of HOT ROD Garage presented by Lincoln Tech David Frieburger and Tony Angelo will show you how to get the most out of an affordable paint job. Our hosts will run through what to expect from a Maaco paint job, and what you can do before and after paint to really maximize your finished product. We've taken our rusty, banged up 1974 Chevy Panel Van and turned it into a sleek, less banged up Red Rocket! The MSD Atomic Surf Van looks ready to roll on Hot Rod Magazine Power Tour 2015.
SCHULTZ RACING OUTLAW NITRO FUNNY CAR 6.27 @ 237 MPH SYDNEY DRAGWAY
KWIKTORK RACING SC/O BLOWN ALTERED 6.30 @ 214 MPH SYDNEY DRAGWAY
Jonathan Ward stops by with his latest Derelict project. It may look old-timey, but with 700 hp, it drives like a Corvette ZR1!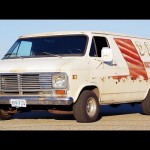 On this episode of HOT ROD Garage, presented by Lincoln Tech we take our well-used 1974 Chevrolet delivery van and start the process of stuffing it full of Lingenfelter Performance LS7 goodness! We are going to turn this rusty T-shirt delivery van into an MSD Atomic Surf van that will now deliver 650 HP! David will explain the process of shoehorning a modern dry-sump LS7 into the place of the original carb'd 6 cylinder Once we get this van running and ripping, David and Mike will be driving it across the US for HOT ROD Power Tour 2015. For Q and A, new host Tony Angelo and David Freiburger discuss Tony's Hot Rod roots, professional drifting, and wild times growing up in PA.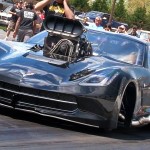 Outlaw 10.5 Class Racing on the 1/8th Mile. Coverage from Cecil County Dragway – May 2nd, 2015!
DANDY ENGINES OUTLAW 10.5 CAMARO 6.63 @ 221 MPH SYDNEY DRAGWAY