Quentin's turbocharged Holden Torana street car just keeps going quicker and quicker. Aiming for a seven second pass, we saw Quentin at Round 1 of the APSA Pro Street championship in Melbourne. The car was entered in the Outlaw Radial class which mostly consists of dedicated race cars.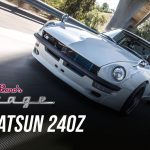 Fast and Furious star Sung Kang stops by the garage with some of his car enthusiast buddies to show Jay their resto-modded 1973 Datsun 240Z they built with the help of social media.

Complete coverage from the Small Tire Class at Kansas International Dragway's No Prep Mayhem Event. Check us out on Facebook!
MOITS RACING C&V PERFORMANCE MUSTANG AT SUPERNATS 2016.
Roadkill is powered by Dodge, which honestly has nothing to do with us needlessly destroying a Chevy and a Ford in this episode. It's the mullet-car showdown, a battle of dirt-cheap beaters: an SN95 Mustang V-6 and a third-gen Camaro with a 305 that's so gutless it might as well be a V-6. Don't worry, neither one of these junkers was worth saving, but we prove that a couple of guys with some useless cars can have a whole lot of fun throwing caution to the wind in full-thrash mode on an off-road racetrack.
WILD No Prep Action from Kansas International Dragway. Luckily it wasn't any worse.
This episode of KrawlZone has been produced as a documentary that takes you behind the scenes of KrawlTek Racing to see Mr. KrawlZone himself as he steps into the Co-Pilot seat and competes in one of the hardest rock races in the country. This is extreme Rock Crawling and this off-road race is no joke.
A '71 Ford Crew Cab 4×4 tow truck. Yeah, exactly what Finnegan and Freiburger need in their lives. In this episode of Roadkill, powered by Dodge, the guys trek to Colorado to meet up with cool fans who sold 'em the homebuilt, 460-powered tow truck that instantly became known as Harry Tow, or Harry for short. The guys hit the road aimlessly—a solid plan goes awry when snowpocalypse hits Colorado. Lost in the blizzard, Roadkill heads south to Arizona to pick up an old friend: Pigpen, the '50 GMC truck that was rescued from a junkyard in episode 31.