Take a ride with Jay in an English-bred behemoth that's all class: the 27-liter Bentley!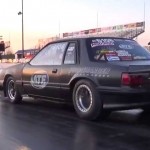 Sean Ashe Save at Atlanta Motor Speedway.  Other than fixing the damage to the motor and 2 new front tires, everything else was good to go for eliminations.  Video Courtesy of Bud Hodge.
Continue reading →
Blake Alexander highlights at the NHRA 4 Wide Nationals in Charlotte.
August 17-18, 2013 – Third Annual Gold Cup – Empire Dragway
I don't know which is cooler. A '37 Ford Flathead stuffed between the frame rails of an early 70s John Deere 200 lawn tractor, or the fact that a then 16-year-old kid from Lottsville, Pennsylvania, designed, built and owns it. I think I'll just roll with both on the equally cool meter.
TheRacingVids, Craig Pio makes his First passes in Pro Mod and with the help from NY Motorsports gets into the 5 second zone!
John's Holden VE SS Ute on the dyno and at the drags. Power comes from an LS 402ci V8 GM engine and large Whipple 3.4L supercharger. [ MPW ]   Got to love anything running in the second range with a flat hood!
This SharkWerks 2011 Porsche 997 GT3 RS proves how these Bay Area garagistas push their Porsches to the next level. Could it be the most outrageous GT3 in the States?