The world was a different place back in 1961, and the space-age styling of the 1961 Ford Starliner tells the tale. This car technically pre-dates the Muscle Car era, but the available 401 HP 390 made it a screamer on the street and stock car tracks. This week's car has been up-fitted with a 427 cube V8 topped with 3 2-barrel carbs, a setup you could get in 1963, but it looks right at home in the bay of this Starliner. There are many neat styling features on this car, including the thin-pillared sloping rear glass with zinc plated and polished stars, the subtitle tail fins, and the twin "rocket exhaust" tail lights. It's one car from the Brothers Collection that is out of this world!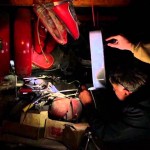 Catch an all-new season of WHAT'S IN THE BARN? Tue Jun 10 10/9c on Velocity.
Outlaw Drag Radial Race with some X275 Cars as well!
Remember the drag racing '74 Chevy Muscle Truck from Roadkill Episode 18? It's back, but with a twist: it's gonna become a true dual-sport ride for surf and turf, shedding its drag slicks for Super Swamper Boggers and hitting the sand dunes…hard! And to prove that a lowered, two-wheel-drive pickup can dominate the dunes, Freiburger and Finnegan set up a shootout with Fred Williams from the Dirt Every Day series on the Motor Trend channel. Fred brought out his '69 VW Baja Bug from DED Episode 23 and went head to head with the Muscle Truck on the beach at Pismo, California.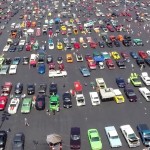 HOT ROD Power Tour is the world's largest road trip, with massive amounts of cars rolling through six cities in seven days. This is the 20th running of the event, presented by Chevrolet Performance and driven by Continental Tire. In this video, HOT ROD's David Freiburger and new Editor In Chief David Kennedy show you some of the sights of the Painless Performance Kickoff Party and reveal what's in store during the event and in the online coverage for the rest of the week of Power Tour.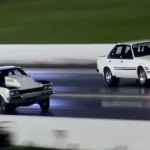 X275 DRAG RACING APSA ROUND 2 SYDNEY DRAGWAY
This is a naturally aspirated 1990 Camaro with a 370 ci LS motor running through a 6 speed T56 on pump gas.  Home built in his garage.  This is the current fastest time, 10.482 @ 131.9 mph. They believe the car has 10.20′s in it.  Either way, this is fast for an NA car, especially a stick!
Great Lakes Nostalgia Funny Car Nationals Nostalgia Classic at Quaker City Motorsports Park – Salem, OH
Total Insanity Monza – Chris Massarella; Parts Peddler – Steve Timoszyc; Blue Thunder – Monty Stotz; War Path – John Cerchio; Time Bomb Vega – Bobby Toth; Damn Yankee Vega – Mark Horvath; Kim McKean – Agent Orange; Poison Arrow – Frank Barnard; No Money No Funny – Willie Johnson; Lil Miss – Behavior – Bobbie Leigh Sweatland; Mopar Crazy – Chris Schneider; John Troxel; Shyster Corvette – Nick Tilley; Solid Rock – Rocky Ausec; Stranglehold Vega – Mike Hall; Funny Farmer Pinto – Ken Hall; Screamin' Eagle Trans Am – Rocky Pirrone; Excalibur Corvette – George Reidnauer; Plymouth Arrow – Jim Locsi; Road Show – Bill Anderson.