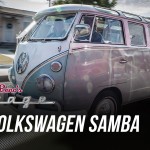 One of Jay's favorite comedians brings by his beloved VW bus, a pristine version of his very first car.
On this episode of Hot Rod Garage, presented by Lincoln Tech, Mike Finnegan journeys to Sonny Leonard Racing Engines in Lynchburg, Virginia to help assemble his new engine, a 771ci Big-Block Chevy topped with Hemi heads, which is primed to produce ridiculous pump-gas horsepower and torque. This all-aluminum, rule-injected beast is built with parts from Brodix, CP-Carillo, ARP, Sonny Bryant, Trend, Holley, and Accufab and weighs just 595 pounds. Once assembled, Sonny dyno-test the engine to verify the power output on 92 octane gasoline before shipping it home to Mike so he can fab a turbo kit for even more power. We've also got a brand new Lincoln Tech Quick Tip and the last Q&A session of Season 1 with Finnegan and Freiburger.
This week, we're taking a look at a Muscle Car that proves one didn't need the biggest engine to be a bad machine! The 1969 Camaro Z/28 boasted a high-revving 302 cube V8 – a size dictated by the SCCA for Trans Am racing legality. But don't let the relatively small displacement fool you – the Z/28 302 was conservatively rated at 290 HP – although many claim it made closer to 350 HP at a higher RPM than the original rating. This Dusk Blue example retains all the cool parts that made up the Z/28 package. From the Brothers Collection.
Matthew Grubisa's sensational looking Outlaw 1970.5 Chevy Camaro runs a personal best pass. Power comes from a 622ci big block Chev V8 engine boost by a pair of large Precision Pro Mod 94mm turbochargers.
We've seen some crazy sh*t when we go to car events, but this is right up there with one of the nuttiest turbo placements EVER! Check out this truck – LSx, big turbo, and a CRAZY LOUD SPOOLIN' bed-side down-pipe exhaust!! We decided to take advantage of the rare opportunity to jump in the bed and ride shotgun along side his TURBO in this extremely unique S10.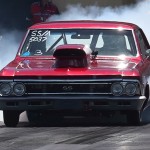 9 SEC CHEVROLET CHEVELLE SS AT SYDNEY DRAGWAY
NitroAmerica 2014 – Don Garlits Electric Dragster Test
Oldsmobile built some of the most potent Muscle Cars of the era, and today they are among the most desirable. This week, we're featuring a 1970 Oldsmobile 442 Convertible, and it is loaded with all the right stuff, including the 370 HP W-30 455 V8, the close ratio Muncie 4-Speed transmission, and the super-rare W27 aluminum center rear axle assembly. Word on the street is that there are only a couple W-30 4-speed convertibles ever built with the W27 out of the 96 drop-tops made. The story of this car is just as unique, as the history is known back to the day the original order was placed for the car at Hansel Olds in Fullerton, California by Robert "Rug" Kazley. The Brothers Collection is home to some stellar Oldsmobiles, and this one is among the best!