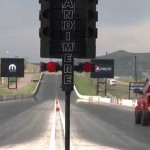 On Day 4 of Diesel Power Challenge 2014, the 10 reader-selected trucks continue at Bandimere Raceway with the ¼ mile drag race in Quick 8 format. After an hour of qualifying sessions the top 8 trucks are ranked then head into eliminations to see which truck stands as the fastest!
Pro Mods and Drag Radial Track Rental at Maryland International Raceway!
The first round of the 2014 European Drag Racing Championships from Santa Pod Raceway, England. Featuring 300mph Top Fuel Dragsters, Methanol Funny Cars, Methanol Dragsters, Pro Stocks, Pro Mods and Super Street Bikes.
The Shelby G.T. 350H is a very special Shelby as, it was used as a rental race car available through Hertz rental car stores in '66. Featuring the 306 HP 289, it was just as capable as the "regular" G.T. 350 available at Ford dealers. There were 1000 ordered by Hertz, but this is one of 2 that were refused by Hertz and was never used as a rental. Truly a rare and significant example from the Brothers Collection!
2015 Dodge Challenger SRT Hellcat: Here's all we've got to say about it: 707 hp… and you will not BELIEVE the burnout!
The newly crowned QUICKEST 6-SPEED GM CAR IN THE WORLD – This giant turbo 1100hp stick shifted camaro officially holds the record and proves he's quite a driver banging the gears to an 8.63 1/4 mile at Muncie Dragway July 27th 2014 at the Street Car Takeover Indy event.
Mel Nelsons Camaro losses the drivers door during a time run at Lights Out 5.
On Day 3 of Diesel Power Challenge 2014 , 10 reader-selected trucks head to Bandimere Raceway as the contenders hook a utility trailer and tow 10,000-pounds through a single 1/8-mile dragstrip pass. With only one attempt allowed the quickest time once again wins the event. Watch as over 9 tons of diesel power fury thunders down the dragstrip!