Anthony's Ford Falcon XD Wagon is a true budget street sleeper. The factory Ford 4.9L V8 engine is now gone in favour of the highly reliable GM 5.7L LS1 engine. A small camshaft upgrade and GM 4-spd transmission are among modifications. Anthony tells us including the car it only owes him around ten grand so bang for buck wise that's not to bad for an everyday 11-second car driven to the track and back.
No Guts No Glory 2 from Orlando Speed World Dragway!! A 3Disc Set from Friday, Saturday and Sunday of almost 6 hours of Shakedowns, Grudge Races and the 28/29 Shootout!! GET YOUR COPY TODAY!!!
Round 6 of the MSA British Drag Racing Championship for Pro Mod from the National Finals at Santa Pod Raceway.
Final eliminations for the NHRA Pro Mod Drag Racing Series from the 2014 NHRA Toyota Nationals at The Strip in Las Vegas, NV.
NitroAmerica 2014 – Top Fuel Harley Joey Sternotti 6.25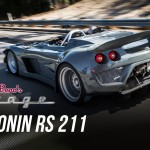 Frank Profera transformed an unfortunate incident with his Lotus Elise into the 680hp, 1.8-liter-engined car of his dreams – with all kind of custom touches under the hood.
Just when you think you've seen it all…the guys at Induction Solutions put nitrous on an airplane!
Check out this Blazer we discovered hanging the front wheels at SCT Nashville! This 383 cubic inch Blazer has NO problem pulling the front wheels to put on an awesome show for us and the crowd!