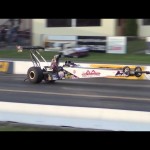 Maple Grove Raceway Regional event Friday May 23, 2014
Round 3 of qualifying from the Lucas Oil Drag Racing Series event at Maple Grove Raceway, Saturday May 24, 2014
Round 3 of qualifying from the Lucas Oil Drag Racing Series event at Maple Grove Raceway, Saturday May 24, 2014.
Friday Qualifying run gone very wrong from the Lucas Oil Drag Racing Series at Maple Grove Raceway, May 23, 2014.
Coming to Memphis International Raceway…the PDRA!
This '69 Charger Daytona in the Brothers Collection is one of 502 built, and 1 of 294 with the 440 engine. With its aerodynamic nose piece and towering rear wing, this is definitely the most outlandish design from the muscle car era. But those features weren't added to shock and sell, they were shaped to be kings of the Nascar Super Speedways. In this episode of Muscle Car Of The Week, we'll tell you all about it
This Trans Am's interior has seen better days, did you know that you can get the interior re-dyed?
Dean Marinis runs from Cecil County Dragway in Maryland with Go Pro Footage!