Has it been that long already? Yup, we are 34 episodes deep into this thing we call Roadkill and although this episode might seem like we are mailin' it in, we are in fact not slowing down at all. This is the good stuff, the moments that didn't make the cut because we just couldn't fit them in, and the inside dirt on what really happens when we hit the road with 20 bucks in our pockets and a headful of good ideas. Sit back, pop open a few cold ones, and take a trip down memory lane with Freiburger and Finnegan as they reminisce on puking dogs, smashed hybrids and why nobody seems to like it when they drive to Alaska. Next month we'll be back with an even bigger episode of Roadkill so stay tuned.
Hot Rods & Hobbies' Scott Bonowski takes Jay for a ride in the woodie he restored for Eric Johnson.
The 1969 Chevelle SS 396 was a hot car, but the COPO program allowed for a run of 427 cars to really take Super Stock drag racing by storm. However, Don Yenko at Yenko Chevrolet one-upped the COPO cars with 99 special 1969 "SYC" Yenko Super Car Chevelles further modified to his liking. This 427 cubic-inch monster features a 4-speed, and it is one of only 12 built in Garnet Red. From The Brothers Collection.
A pair of Novas from Solid Performance Tech caught our attention at Albuquerque's ALL OUT CALL OUT drag race – It's no secret we love boosted cars, 'sleepers' (although this one doesn't quite fit the bill), and beautiful muscle cars, so we were all over these to badass machines!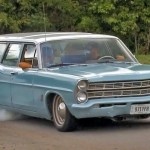 This time, Freiburger and Finnegan were out for a gearhead vacation, heading from the NHRA U.S. Nationals in Indy to HOT ROD Drag Week in Tulsa, but they had no car to drive. Posting on the Roadkill Facebook page was all it took to get fans to bring about a dozen cars for the guys to consider buying. After a struggle, they ended up letting a 5-year-old pick the car for them: a '67 Ford Country Sedan wagon. Next it was hanging on the starting line with mega-team owner Don Schumacher and other stars of the NHRA, a road trip that involved getting threatened by an old man with a steel pipe, and a final destination with the action of HOT ROD Drag Week. A past Roadkill co-star ended up winning that race overall, and you'll also watch as Larry Larson sets the record for the single quickest pass of all time for a street-legal vehicle.
Rutledge Wood from American Top Gear has been a big fan of HOT ROD, Power Tour, and Roadkill, so he's had his 1949 Chevy Kurbmaster van at the last few Tours. Here, at the 20th Power Tour in 2014, HOT ROD's Elana Scherr and David Freiburger hit the road with Rut and the van. The aluminum-bodied stepvan is on a moden Chevy truck chassis and is powered by a 6.2L crate engine and 4L85E trans from Chevrolet Performance.
Trakbak Racing and TGE are pleased to present a full 1 hour WebTV Show from the NitrOlympx held at the HockenheimRing on the 8/10 August. The show includes both FIA and FIM Championship classes along with interviews and segments of non-racing including the night show.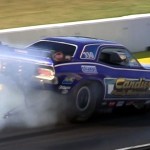 New England Hot Rod Reunion – New England Dragway -NEHRR – Nostalgia Drag Racing