We've seen some crazy sh*t when we go to car events, but this is right up there with one of the nuttiest turbo placements EVER! Check out this truck – LSx, big turbo, and a CRAZY LOUD SPOOLIN' bed-side down-pipe exhaust!! We decided to take advantage of the rare opportunity to jump in the bed and ride shotgun along side his TURBO in this extremely unique S10.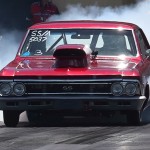 9 SEC CHEVROLET CHEVELLE SS AT SYDNEY DRAGWAY
NitroAmerica 2014 – Don Garlits Electric Dragster Test
Oldsmobile built some of the most potent Muscle Cars of the era, and today they are among the most desirable. This week, we're featuring a 1970 Oldsmobile 442 Convertible, and it is loaded with all the right stuff, including the 370 HP W-30 455 V8, the close ratio Muncie 4-Speed transmission, and the super-rare W27 aluminum center rear axle assembly. Word on the street is that there are only a couple W-30 4-speed convertibles ever built with the W27 out of the 96 drop-tops made. The story of this car is just as unique, as the history is known back to the day the original order was placed for the car at Hansel Olds in Fullerton, California by Robert "Rug" Kazley. The Brothers Collection is home to some stellar Oldsmobiles, and this one is among the best!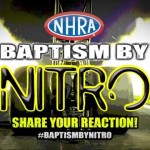 Inspired by the popular phrase "Baptism by Fire," a commonly used phrase to describe when an individual is thrust into a new situation, experience or environment, "Baptism by Nitro" is NHRA's call to encourage long-time fans to bring a family member or friend that hasn't experienced the heart-pounding atmosphere of the NHRA Mello Yello Drag Racing Series.
On this episode of Hot Rod Garage, Presented by Lincoln Tech, we round out a season of El Camino upgrades with a big heart transplant. Gone is our old 383ci Small-Block and in its place is Chevrolet Performance' LS376/525 an all-aluminum, fuel-injected, crate engine that is probably underrated at 525hp and 475 lb-ft of torque. Using parts from Hooker, Aeromotive, Holley, Gearstar, Flex-A-Lite, and Chevrolet Performance, the swap only requires a few holes drilled and a bit of exhaust pipe fitting to make happen. In the end, our 1969 El Camino lost some weight and reset the track record on our autocross course. In this episode we also have a new Lincoln Tech Quick Tip and another Q & A session with Finnegan and Freiburger.
Stock eliminations from the 60th annual US Nationals.
This week, we bring you one of the pinnacle Muscle Cars ever built, for multiple reasons! You're looking at the very first 1970 Plymouth Hemi 'Cuda Convertible ever built. Rare because they only made 14 Hemi 'Cuda drop-tops in '70, cool because of the 425 HP 426 cube Hemi V8 under the hood, and even more unique because this is the frist one to roll off the assembly line. Dressed in Rallye Red with a red interior and black top, this car even sports a red Shaker hood scoop for more attention-getting fun. Mash the gas and the dual Carter four-barrels open up to provide fuel – lots of fuel – to the hungry Hemi below. The Brothers Collection is home to some awesome cars, but this one is over the top, even with the top down!