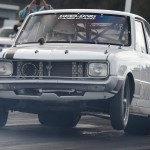 Andrew Dyson's Mazda R100 testing at Heathcote. The car is powered by a billet 13B rotary engine.
If you were to go buy a brand-new 1970 Chevrolet Chevelle SS, what options would you choose? This week, our featured Muscle Car is a super-clean 1970 Chevelle SS 454 with the 450 HP LS6 V8 backed by a Muncie M22 4-speed transmission. Couple that with a power convertible top, and you've got an awesome ride capable of burning through the first 3 gears while wind-blowing your hair at the same time. There are multiple LS6 Chevelles in the Brothers Collection, but this one is perhaps the most sinister.
Round 2 Qualifying from the Lucas Oil Division Racing Series at New England Dragway, Friday June 18, 2014.
In 2014 Alaska Raceway Park celebrates 50yrs of providing a place to take drag racing off the streets. The Bodenstadt family out of Fairbanks. Alaska have been a big part in the success. This video covers 30 yrs of racing with two generations of drivers. There is also a 3rd generation running Jr Dragsters.
On Day 1 of Diesel Power Challenge 2014, 10 reader-selected trucks are strapped down for the chassis dyno competition held at ATS Diesel. This event is all about the numbers as each vehicle's peak horsepower and torque numbers are added together for an overall total per pull. With Nitrous allowed, each contender is given 3 chances to score the highest and earn bragging rights as the most powerful truck!
On this episode of HOT ROD Garage Presented by Lincoln Tech Mike Finnegan gets tips for strengthening sheet metal using a bead roller from world-famous fabricator, Jamey Jordan, owner of Handmade Seat Company. Then he and David Freiburger eliminate a few electrical gremlins in the Roadkill '73 Chevy C30 ramp truck and pick up more power on the dyno by replacing the old quadrajet carburetor with a new Holley Ultra Street Avenger and the stock HEI distributor with a new part from MSD. Finally, Freiburger tests Duplicolor's Vinyl and Fabric Coating, a spray-on dye for restoring interior parts. If you aren't sick of their faces by the end of this episode, stick around to watch the duo answer questions from the Hot Rod Garage Facebook page and insult a good portion of the Motor Trend staff.
On this episode of Roadkill, it's 2,600 miles, 530 cubic inches, 700 horsepower, six speeds, 17 mpg, and two fun visits with some friends from TV. Last time, on Roadkill Episode 29, we finished our Chrysler-Hemi-powered 1955 Chevrolet gasser in about two weeks of thrashing (it's the same car you saw us take, as a bare shell, to Jim Meyer Racing in Oregon in Episode 8). On this latest episode, we drive it around the block once, then hit the road on a 2,600-mile journey from Los Angeles to the kickoff party of the 2014 HOT ROD Power Tour in Concord, North Carolina. On the way, there's the breakdowns you expect from Roadkill, plus two surprises: a stop at Midwest Street Cars with Justin "Big Chief" Shearer and Shawn "Murder Nova" Ellington from Street Outlaws, and another with Rutledge Wood from Top Gear USA.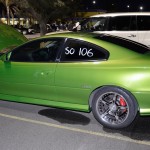 Turbo, naturally aspirated, nitrous assisted, new and old V8 street cars from Calder Park ANDRA street meeting featuring the Street Outlaws series.