Rob Taylor's Blown Outlaw Camaro runs into the 6-second zone at 200+mph on debut in Sydney.
Check out this must see Super Slo Mo video from ESPN. The 2015 Mello Yello Drag Racing season kicks off with the Circle K NHRA Winternationals, February 5-8 in Pomona, CA.
This car remains as innovative today as it was when it first hit the road in 1955. Jay changes its tire without a jack – and shares Citröen's truly weird advertisements.
ALEX BORG BELLE RENOVATIONS AZZOPARDI RACING HAYABUSA TURBO 7.78 @ 176 MPH 19.12.2014
This BEAST of a car showed up at Street Car Takeover Nashville to makes some passes down the track – except there was nothing that kept up with it! This Camaro is packing two 88mm turbochargers powered by a 509 cubic inch engine under the hood. Check this thing out! Our favorite part about it was the twin fuel tank setup on it allowing him to cruise anywhere he wanted without issues, although we think it's a little too far of a stretch to call it a 'street car', which is why he was in the unlimited class… thought he wasn't scared to take the cruise for the street car class.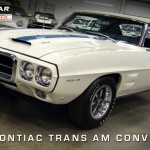 In 1969, Pontiac unveiled a high-performance Firebird required by Trans Am rules to allow them to compete in the Trans Am racing series. While other manufacturers were allowed to compete as well, Pontiac grabbed the obvious name choice and called there version the Trans Am. These were potent performers with excellent suspension systems and a uniquely racy design. Less than 1000 were made, but today we're focusing on one of the 8… that's less than 10… factory-built 1969 Pontiac Trans Am Convertibles. This one has just completed an extensive restoration, is powered by a 400-cube Ram Air III V8, and is from the Brothers Collection.
On this episode Hot Rod Garage Presented by Lincoln Tech we revamp the suspension on our 1969 Chevy El Camino to turn this lowly hauler into a real corner-carver. The crew from Ridetech not only helped swap out the old mismatched suspension and steering components, but gave us a couple of shock-tuning tricks. The Elco received new triple-adjustable dampers, front and rear sway bars, adjustable control arms, and coilover shocks at all four-corners. We've also got new tech tips from Lincoln Tech and AC Delco and a brand-new question and answer session with Freiburger and Finnegan.