From MotorManiaTV.com Check out the carnage,Thrills and Spills from Light Out VI Buzzing the Tower. Wild Wheelstands, Awesome saves and all kinds of Carnage.
Everything from the Wild unpredictability of Radial VS the World to Leaf Spring and so much more if you missed it then tune in September 24th – 27th when we do it all over again at No Mercy VI
Outlaw 10.5 Highlights, Record Runs, Personal Best, and More.. Most Passes are Eight-Mile with some Quarter-Mile Passes Mixed in.
March 5-8 2015 Auto Club Famoso Raceway, Bakersfield, California.
LIGHTS OUT 6 Feb 19-22, 2015
Mark leads with his heart when he promises to finish a car in under a week for a special family occasion. The sedan had been Derrick's pride and joy project and the team rallied to deliver on time.
Ten minute promotional clip from the full length (1 hr 38 min) video available through Jim Amos' Bee On Video.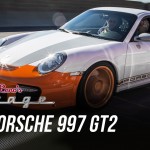 When Magnus met Alex Ross of SharkWerks at Jay's garage, a love connection was made – which yielded this baby!
What happens when you mix a lightweight body with a high-powered 427?   Ford set out to find out with this 1966 Fairlane, and the results were awesome.    This Fairlane does not look like anything special, being completely devoid of racy looking stripes or fancy trim, but the giveaway is the scooped lift-off hood and the discreet 427 badges on the fenders.    This car is boasting lightweight aluminum and fiberglass panels from front to back, and has been assembled without creature comforts inside.