One of the most incredible junkyards in the history of junk is Turner's Auto Wrecking in Fresno, California—and on this episode of Roadkill, Freiburger and Finnegan hit those 100 acres of vintage sheetmetal and go spelunking for gold! After considerable debate, the guys select a 1950 GMC shortbed truck that had been off the road for 26 years and jam to get it running and driving for the trip home to Los Angeles. At least there was a 50-percent victory. Watch as the guys revamp the Jimmy inline six, panic over a wrecked master cylinder, sweat their cajones off for four days, and explore one of the greatest old-car stashes ever!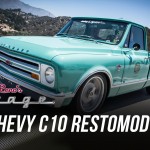 Holley CEO Tom Tomlinson takes Jay under the hood of his company's rolling showcase… which tunes itself!
The second round of the 2014 European Drag Racing Championships from Alastaro, Finland. Featuring 300mph Top Fuel Dragsters, Methanol Funny Cars, Methanol Dragsters, Pro Stocks, Pro Mods and Super Street Bikes.
PAC PERFORMANCE RX3 COUPE 8.25 @ 163 MPH SYDNEY DRAGWAY
BK RACE ENGINES TWIN TURBO MUSTANG 6.20 @ 233 MPH SYDNEY DRAGWAY 
At any speed you gotta see it to believe it!! This year we conclude the 2014 Mello Yello Drag Racing season by celebrating 50 years of the Auto Club Finals. Tickets are now on sale, tell a friend! Click here for tickets: http://bit.ly/AAFinalsTix
On this episode of Hot Rod Garage Presented by Lincoln Tech, Kirk Brown stops by the shop to school us on the art of sand casting traditional hot rod parts. From flip-top gas caps to old-school friction shocks, Kirk creates parts that turn vintage iron into period-correct hot rods under his Crafty-B moniker. Finnegan also drives the infamous Roadkill '69 El Camino to Camarillo airfield to find out how badly the factory brakes perform and then Wilwood Brakes gives the Elco a serious binder upgrade. The Elco is fitted with 11-inch disc brakes at all four-corners and tested to see how much the stopping distance is affected. Next a monster set of 14-inch discs and six-piston calipers are swapped onto the car for the ultimate brake upgrade. How well do the new parts work? Stay tuned and find out! Oh yeah, Finnegan and Freiburger also take a break from wrenchin' to answer viewer questions posed on the Hot Rod Garage Facebook page.
On the 5th and final day of Diesel Power Challenge 2014, the 10 reader-selected trucks fill up their tanks to test fuel economy before hitching up to the pulling sled in an attempt to haul it as far as possible on a packed down mud track in their final challenge event. Then we wrap-up the weeklong competition by presenting this year's diesel power champion!