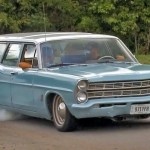 This time, Freiburger and Finnegan were out for a gearhead vacation, heading from the NHRA U.S. Nationals in Indy to HOT ROD Drag Week in Tulsa, but they had no car to drive. Posting on the Roadkill Facebook page was all it took to get fans to bring about a dozen cars for the guys to consider buying. After a struggle, they ended up letting a 5-year-old pick the car for them: a '67 Ford Country Sedan wagon. Next it was hanging on the starting line with mega-team owner Don Schumacher and other stars of the NHRA, a road trip that involved getting threatened by an old man with a steel pipe, and a final destination with the action of HOT ROD Drag Week. A past Roadkill co-star ended up winning that race overall, and you'll also watch as Larry Larson sets the record for the single quickest pass of all time for a street-legal vehicle.
Rutledge Wood from American Top Gear has been a big fan of HOT ROD, Power Tour, and Roadkill, so he's had his 1949 Chevy Kurbmaster van at the last few Tours. Here, at the 20th Power Tour in 2014, HOT ROD's Elana Scherr and David Freiburger hit the road with Rut and the van. The aluminum-bodied stepvan is on a moden Chevy truck chassis and is powered by a 6.2L crate engine and 4L85E trans from Chevrolet Performance.
Trakbak Racing and TGE are pleased to present a full 1 hour WebTV Show from the NitrOlympx held at the HockenheimRing on the 8/10 August. The show includes both FIA and FIM Championship classes along with interviews and segments of non-racing including the night show.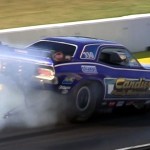 New England Hot Rod Reunion – New England Dragway -NEHRR – Nostalgia Drag Racing
Drago's Dandy Engines supercharged big block V8 powered Chevy Camaro testing at Heathcote Park Raceway.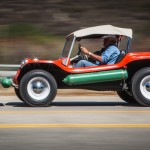 Get the history of the California dune buggy from Bruce Meyers himself!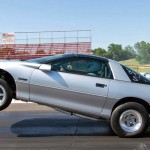 Take a ride along in a Camaro at SCT OKC's Drag Race day as it effortlessly pulls the wheels for the first 100 feet of the track. Very simple setup, very fun results. Not sure if I'd enjoy the giant wheelie or winning the race more, but he had to choose one at this race!
SAM FENECH OUTLAW 10.5 CRASH SYDNEY DRAGWAY