I don't think I've ever seen a drag race finish this close!!! …thank god for timing systems, this one had to be within an inch! This was from first round of Chitown's King of the Streets X.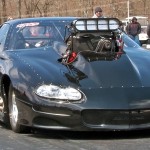 Racing Clips from Cecil County April 5
Ray visits John Force and they talk about John's racing evolution!
Todd's Holden VH Commodore drives to the track runs a personal best pass and drives home. The car is powered by a naturally aspirated Holden V8 stroker engine and runs on E85 fuel.
On this episode of Dirt Every Day, Fred picks up the pieces after the destruction in the last episode. Now, the real chaos begins as Fred Williams attempts to take the frame of a 1986 Pace Arrow motorhome and transform it into a giant go-kart. Fred calls on the engineering assistance of his friend Frank and the Poly Goats Off Road Club to finish this big-block powered monster go cart. To test whether it stands up against the regular sized go-kart, they head out to the dirt for a head to head battle of wits, agility, and power. Tune in to see who comes out on top!
Frankie Taylor resets his own record at the PDRA Spring Open and sets a new world record for Pro Extreme!
Jim Bell took a tremendous hit after his Mustang Pro Mod turned right after the finish of his run at the PDRA Spring Open.  We are pleased to announce that not only is he OK, he has already purchased a new car and will return to racing later this month!