There is nothing subtle about this week's Muscle Car Of The Week.     This Everything about this 1970 Plymouth Road Runner Superbird helps it to stand out in a crowd… the brilliant TorRed color, the high rear wing, the aerodynamic nose, and of course, the growling 426 Hemi V8 under the hood.    However, this very car was chosen by some not-so-brilliant outlaws to be the getaway car from a Harrah's Casino heist in Reno, Nevada.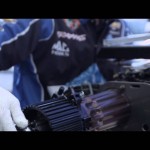 16-Time Funny Car champion John Force has a new look and a new team behind him for 2015. Meet the Peak Chevrolet Camaro SS Funny Car team.
BOSKO RACING 9 SEC FORD COUPE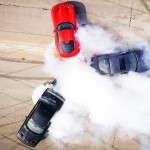 Roadkill is now powered by Dodge! To kick off the sponsorship, Finnegan and Freiburger called for some brand new 2015 supercars: the 707-horsepower Dodge Challenger SRT Hellcat and Charger SRT Hellcat, plus a 645-horsepower Dodge Viper GT. Why? For an epic thrash, of course! This video has more tire smoke than you've ever seen from these cars, plus a big, irresponsible surprise at a motocross track. There are guest spots from Carlos Lago from Motor Trend, Fred Williams from Dirt Every Day, and pro drifter Tony Angelo. None of these guys should have been handed the keys. And by the way, we used the Hellcat red keys the whole time.
Bumper man Greg Higgs takes Jay for a ride in the outrageous Jeep mod that caused an uproar at SEMA 2014
Video from MDIR Sunday Test and Tune.  Including Radial Tire Cars and Pro Mods Running both Eight-Mile and Quarter-Mile!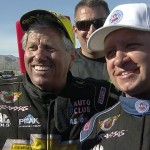 John Force clocked a 4.148-second pass at 312.35 mph to defeat teammate Robert Hight's 4.154 at 306.05 in the final round. This marks his 142nd career win and fifth career win at The Strip at Las Vegas Motor Speedway.
From MotorManiaTV.com Check out the carnage,Thrills and Spills from Light Out VI Buzzing the Tower.
Wild Wheelstands, Awesome saves and all kinds of Carnage.
Everything from the Wild unpredictability of Radial VS the World to Leaf Spring and so much more if you missed it then tune in September 24th – 27th when we do it all over again at No Mercy VI.