To the most passionate and die-hard fans in sports: Thank you for a great 2014 racing season! We look forward to next year and many years to come.
This is simply cool!  Two of the BADDEST diesel rat rods in the world showed up at SEMA, built by WELDERUP, the infamous shop featured on Discovery Channel's Vegas Hotrods TV show.
On this episode of Hot Rod Garage, Presented by Lincoln Tech, we've got a brand-new Dickies Roadkill Project Car Update on the Crusher Camaro. Freiburger installs a single stage nitrous oxide system from NOS onto the Mast Motorsports LS7 to break the car into 9-second territory at the dragstrip. He also re-geared the 9-inch rear end, changed the transmission from a 4L65E to a 4L80E, and swapped converters.
After a last-minute thrash to assemble Mike Finnegan's '55 Chevy Bel Air, it famously cruised from Los Angeles to Charlotte, North Carolina, to attend the start of Hot Rod Power Tour 2014. The summertime road trip revealed the good and bad traits of the street-legal gasser and now it's time to exorcize some of its demons.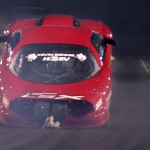 Vince's Kevin Dennis Holden HSV sponsored Chevrolet Z28 Camaro heads for the sky after a new boost controller was fitted. It's been quite some time since we've seen this red rocket out so it will be good to see it back at the track in anger. The car is powered by a Precision turbocharged LSX V8 engine and competes as an Outlaw Radial APSA class car.
AEROFLOW OUTLAW NITRO FUNNY CARS AT SYDNEY DRAGWAY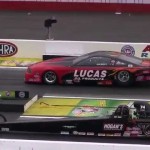 Running nine-tenths under your Competition eliminator index is absolutely bad to the bone, especially with OEM Ford 4.6 L cylinder heads & block. This is exactly what turbocharged racer John Mihovetz of Ontario, Ca., did during the NHRA AAA Finals when his 5.920 elapsed time put him atop the field. He also established himself as the quickest-ever Comp eliminator racer.
HOTROD.com presents an after-hours hyperlapse of the cars in Central Hall during the 2014 SEMA Show